---
Sparse Principal Component Analysis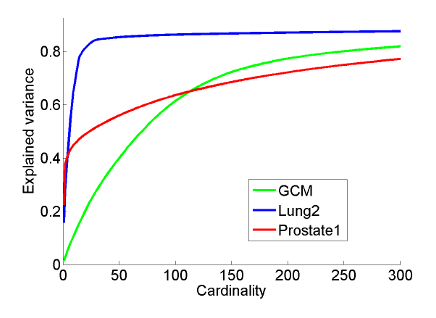 Principal Component Analysis (
PCA
) is a standard technique for dimensionality reduction and data analysis which finds the k-dimensional subspace of maximal variance in the data. As usually all entries are nonzero, an interpretation of the principal components is often difficult. This plays a role for instance in the case of gene expression data where one would like the principal components to consist only of a few significant genes, making it
easy to interpret
by a human.
For this reason, in
sparse PCA
one enforces sparsity of the PCA component with the aim of getting a small number of features while at the same time still capturing most of the variance. Hence one is interested in the optimal
trade-off between explained variance and sparsity
. The right plot shows the variance-cardinality tradeoff curve for three gene expression datasets.
As shown in
[1]
, Sparse PCA can be modelled as a
nonlinear eigenproblem
and
efficiently be solved
by our
nonlinear IPM
. An implementation can be downloaded from this website.
---
Download and License
Download sparsePCA.rar
(Matlab-Code, Version: 1.0)
---
References